act Stories
Magical moments and nature adventures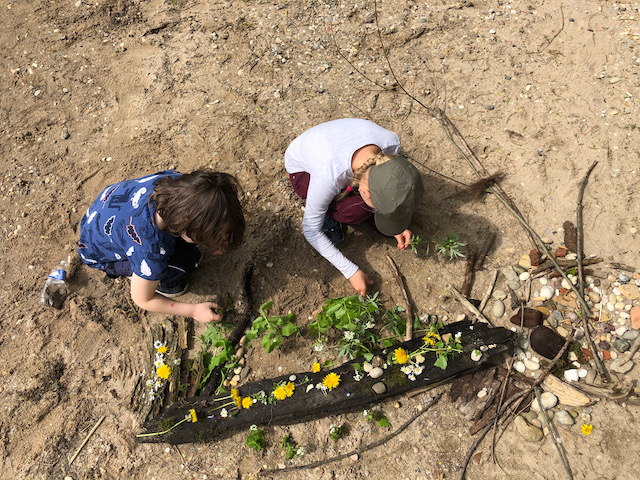 About creative workshops, forest adventures and sharing traditions
Today we tell you
stories suitable for Children's Day.
Creativity and tradition in the Easter egg painting workshop
On a sunny Easter afternoon in March, children gathered in a painting workshop. Brushes danced over eggshells as colors lit up in motley patterns. One child carefully decorated each egg, while another happily painted many eggs as if on an 'assembly line'. Together they laughed, shared ideas, and danced to upbeat music. The workshop was filled with creativity, laughter and joy. In the end, the children proudly admired their masterpieces and took them home. This joint Easter egg painting workshop not only passed on traditions, but also filled the children's hearts with wonderful memories.
Learning and tasting at the baking course for little bakers
Children from 4 to 8 years old met in a magical kitchen to make cake pops. Together they mixed the dough and shaped the cake pops. They decorated them artistically with chocolate, glitter and mica. As the little masterpieces were created, laughter and anticipation filled the bakery. To top it off, the homemade cake pops were eaten and a few were taken home for the family. This baking class was a culinary adventure. Perhaps the children will soon be baking cake pops for their families at home.
Observing and experiencing nature on the fantasy journey
It was a sunny spring afternoon when 15 excited children between the ages of 3 and 10 gathered for a magical fantasy journey amidst dreamlike nature. Together they headed to the mysterious Goldkanal to discover the treasures of nature. They roamed along the area collecting stones in bright colors, sticks in different shapes, shells with shimmering colors, and flowers and leaves of all sizes and textures. The children were like little explorers, enthusiastically exploring the diverse nature. When their bags were full of treasures, they found a sandy spot on the shore and began to create a work of art together. With dedication and creativity, they shaped the collected materials into a stunning image in the sand. It grew bigger and more magnificent until finally there was enough space for everyone to gather around it. In this magical atmosphere, surrounded by the beauty of nature, the children settled down. A storyteller began to tell an enchanting story that took them to the land of fantasy. Emil, the little duck, and Ida, the little hedgehog, became their best friends and together they had exciting adventures at the lake.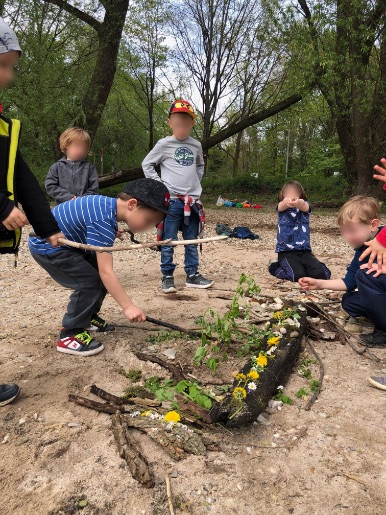 The children listened spellbound to the story and dreamed themselves into a world full of adventure and friendship. Time flew by as they followed the narrator's words with bright eyes. At the end of the fantasy journey, the work of art in the sand was completed and the children proudly looked at their collaborative work. It was the result of their creativity and their connection to nature. This enchanting experience inspires us to offer such wonderful adventures in other regions as well. Children should have the opportunity to discover the wonders of nature, let their imaginations run wild and listen to stories in community. Such experiences create lasting memories and awaken a love of nature in children's hearts. Let's create such magical moments together and turn today's little adventurers into tomorrow's nature enthusiasts.
Playfully discover nature and collect ancient herbal knowledge
In the idyllic Rheinauen, little nature discoverers experienced a forest adventure
on a sunny Saturday afternoon in May. The children's enthusiasm knew no bounds and it was fascinating to see how the children from the village shared their knowledge with the children from the city. "You have to leave the snails in the forest. They live here. They don't feel comfortable in a can in your apartment. You don't want to move just like that...", one little expert explained to the others.
It was a wonderful dynamic of learning where everyone benefited from everyone else.
The children collected treasures of nature, recognized the ribwort plantain and heard about its healing properties. "My grandma always says you can put this on mosquito bites. Then it won't hurt anymore...", one child shared his knowledge with joyful pride.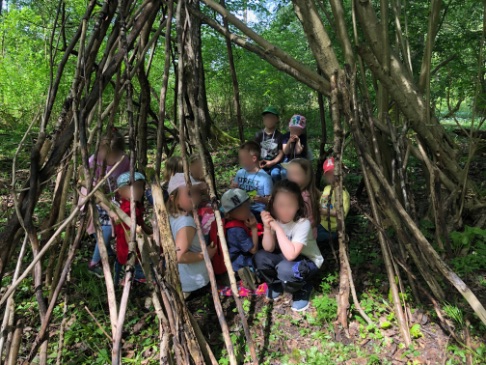 The afternoon was filled with movement, building a small shelter together for the apple picnic, and a touching story about friendship. There was plenty of time for storytelling, discovery and learning about different plants. In this shared experience, it became clear how important learning from each other is and how much we can all benefit from each other. Children from different backgrounds and experiences not only learned about nature, but also about each other. This variety enriched the group and opened their eyes to different perspectives and traditions. The children learned to take responsibility for nature, to create connections and to discover themselves in the midst of this wonderful environment. During this adventure, nature offered them the opportunity to sharpen their senses, develop their creativity and recognize inner strength.
Let us carry these valuable experiences further and shape the world more actively
When we facilitate adventures for children 'across the world', we pass on a love of nature, traditions and ancient knowledge to the next generation. Experiencing nature and learning from each other not only builds strong personalities, but gives everyone who was there an incredibly enriching time. The children's adventures are a big hit in the region. Many are already looking forward to the coming months with the Midsummer Festival and Children's Olympics. Made for an active Life The 99active Team

Calling providers with a passion and love for sharing their talents with the world!